As we have discussed in our previous blogs, one of the benefits of pavers is that if they become damaged, pavers are incredibly simple to replace and repair. This is largely due to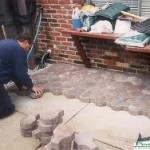 the fact that they are not held in place by grout and mortar but by a special type of sand that works to hold the pavers in place by jointing them together. While pavers are incredibly durable, it is possible for them to crack or they could have a stain that can not be removed. While this could permanently damage a concrete driveway, pavers are easy to fix and offer no long term consequences.
If you have a paver that simply needs to be popped out and replaced, then this is most likely a task that you can take on yourself with a little bit of how to replace pavers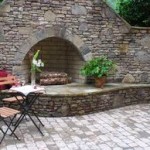 research. However, other tasks can be a bit more challenging and could require the work of a professional. Below are a list of common paver repair services that if you find yourself in need of that you might just want to call a professional to have come and take care of for you.
These services include: repairing the paver curb, replacing loose pavers, seal coating (seal coat maintenance and crack sealing. While pavers are known for their longevity and durability, they will last even longer if they are properly cared for. Here are some tips to help you care for your pavers so that you can continue to enjoy the beauty that they bring.
After severe weather take a few moments to inspect your pavers, evaluate if any have been damaged or need to be replaced. Determine if more sand needs to be used for grouting.
On a regular basis care for your pavers by sweeping them or cleaning them with a pressure washer. If you clean with a pressure washer, take care not to hit the sand grout which will remove it.
If cracks appear in your pavers, replace the broken pavers before more become damaged.
Reseal your pavers on a regular basis, this will also protect your pavers from stains that will ruin them such as oil and grease.
In our last blog we spoke about the importance of sealing pavers, if you are unfamiliar with sealing then you might want to take a quick look. Essentially, sealing works as a barrier between the paver and any material that would alter the surface by staining it. In addition, it also adds an extra layer of protection. Unfortunately, it is not enough to just seal your pavers when they are first installed. This is something that should be done on a regular basis throughout the lifespan of the paver.