Having a newly paved area around your residential home is exciting. You will want to furnish it and enjoy for the first couple of weeks. But you should protect it first before you start to enjoy this area such as your patio.
Your patio may have many items on it like furniture that could damage the texture of your pavers so you will need too protect your pavers and keep them look great and fresh by applying a general sealer as a top coat.
Sealers come in a variety of styles you can purchase one that is a high sheen or high gloss or you can simply stick too the general natural glossed it all depends on the type of finish that you are after.
Applying a Sealer to Your Old Pavers

If your existing pavers are looking dull and boring and they look as thought the need a touch up. Well then why not freshen them up by applying a sealer to them. Over the next couple of paragraph we will explain a simple guide on how to apply a sealer to your old pavers.
Cleaning Old Pavers
Before you even begin to seal your old pavers you need to remove all furniture from this area and begin to sweep it free of dirt and debris. You may then apply a general cleaner such as soapy water. Also use a high pressured hose to remove all traces of cleaner and dirt.
Some natural stoned pavers may require a specially formulated cleaner so seek professional advice before you use anything.
Begin to clean the pavers and you can try to remove most of the stains that have occurred.
Repairing Cracked or Chipped Pavers
Thoroughly investigate this area to make certain that there are no damaged to the pavers. If so then you must replace them before applying the sealer.
The First & Second Coating
When you apply the sealer it may be easier for you to do this with a roll on brush. If not you can simply use a normal paint brush but it may take you a while.
Apply the first coating, making sure that you thoroughly soak the area. It must penetrate through the top coat of the pavers to ensure that the sealer does it job in protecting the pavers.
You can now leave it to dry for as long as you think. Once the first coat of sealer has dried you can then begin to apply the next coat.
Once this has been done the area should be left to dry for at least 24 hours. Some sealers can take up to 48 hours to dry.
Applying a Sealers Too Freshly Paved Areas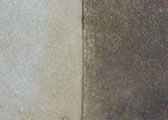 For newly paved areas the same process should occur as above. But excluding the cleaning and repairing process because the pavers are new. With new pavers they require a sealer that will protect their stunning new finish. Different stones require different sealers and cleaners so when you purchase your new pavers ask for advice on cleaners and sealers.
3 coats of sealer may be necessary for new pavers. Just to make certain the sealer does penetrate through to at least 1 to 4 millimetres deep.