Concrete Driveway Pavers
Why Choose Concrete Driveway Pavers?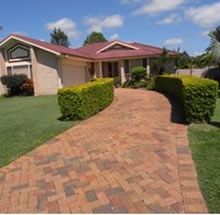 If you are looking to give your driveway a new look or at installing a completely new driveway, then concrete driveway pavers should be considered for your material of choice.
Concrete pavers have become one of the most popular paving stones used on the market today. When it comes to your driveway the benefits of these are endless.
The driveway is one of the first things that you notice about any property whether it is a residential home or a commercial site. It is the entry into ones home or business and it goes into the first impression created by your particular property. If you have a nice looking house or building but the driveway is dull and boring then it will take away from the whole aesthetic appeal. For this reason it is important to ensure that when installing a new driveway, you use a good quality paving stone that not only looks great but will also stand the test of time.
How Do Concrete Pavers Compare To Natural Stone Pavers For Driveways?
Natural stone pavers have been used for centuries to pave roads, streets and sidewalks. Some of these are still standing in Europe today. However, back then there were not too many other choices for paving stones. Nowadays, we have many different materials to choose from ranging from concrete, natural stone, brick, precast concrete, grass and even rubber pavers.
Concrete Driveway Pavers Are Less Expensive than Natural Stone Pavers
Natural stone pavers are elegant and would give any driveway that 'old world' feel. However, when they are compared to concrete it really is the cost that sets them apart. If you are on a budget then concrete driveway pavers are the smart choice for you. They will still add aesthetic appeal for they can imitate the look of natural stone with the many different colors, textures and sizes they are available in. so, you can still create the same appeal on a smaller budget.
Manufacturing Process for Concrete Driveway Pavers Being Continually Refined
Concrete driveway pavers are also very durable as are natural stone pavers. Manufacturers have tried and tested concrete for many years and have them at a very high standard.
Concrete Driveway Pavers Benefits
They are highly durable and a lot easier to install than natural stone. The reason is that they are much lighter in weight and with the interlocking design, they fit into each other easily and joints are then filled with sand. This makes repairs a lot simpler as well. All that you need to do is remove damaged, stained or cracked pavers and replace them with new ones and then fill the joints back up with sand. It is recommended that you seal your pavers every two years to maintain and preserve the look of your driveway.
So, concrete driveway pavers are cost effective, easy to install, easy to maintain, visually appealing and also highly durable. Overall, having these installed will transform the look of your property and make it the envy of all the neighbors!