Installing Patio Pavers
HOW TO INSTALL PATIO PAVERS
Extend Outdoor Living
Patios are a great way to extend outdoor living spaces for many types of applications and settings. A large number of residential applications feature a patio for its functional and decorative values which creates an outdoor area to relax or entertain all year round. The ground surface of patios is an important structural feature which hence provides a safe ground surface with additional enhancement.
There are many wonderful patio pavers to choose from that are available in several shapes, a wide variety of colors and textures, various sizes and various paver thicknesses. As for the paving patterns, there are also many to choose from that create a beautiful patio floor. To install patio pavers, you don't have to be a professional as they are easy to install as long as you have the correct information.
Tips To Determine The Size Of the Patio
Once you have decided that you want a patio structure and you have opted to install patio pavers yourself, the following are some handy tips that will help you determine the size of the patio to meet your personal requirements. Pending on the area size, how big do you want the patio area to be? Do you want have lounge chairs? Do you want an outdoor dining setting? Do you want hammocks? Do you want a barbecue set up in the patio?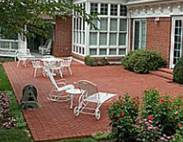 You can choose a few options if it's a large area. Measure the area in width and length and take the measurements to the landscape retailer. There are also other materials that are required such as gravel, sand and edging products. Purchase these materials according to patio floor area.
How To Install Patio Pavers On Dirt Ground Surface?
The following are some basic tips on how to install patio pavers on dirt ground surfaces. One very important point before you excavate the area is to ask your local utility provider and make sure there are no underground electrical, plumbing or gas lines. It is also a good idea to seek professional advice before embarking on a DIY project.
Draw a plan which creates a diagram to work from
Put up stakes with string to the patio size perimeter, or spray paint the marked out area
Excavate the area to depth of 6 to 8 inches make sure its level to the scope. The depth will also be determined according to the actual paver thickness you have chosen
Remove all debris and compact the ground
Apply one inch of crushed gravel make sure its evenly spread, compact gravel
Apply one inch of sand and spread it out evenly with a leveler or straight timber plank
Apply the edging material to the outer perimeter line of the size
Start to install the patio pavers at the corner of the top end or if the patio is close to structural buildings, start at that end, by placing them on top of the sand and use a rubber hammer tap in gently
When placing the next one, you must leave a gap of one eight of an inch, and continue with the laying pattern you have chosen. Continue with this process until the entire patio surface is paved
Once you are satisfied that the patio pavers are installed properly and are level, use a compactor and go over the entire paved
Apply sand to the entire paved area and make sure all of the paver gaps are filled to the top
Once all of the gaps are filled properly, use a broom and remove any access sand
Allow a few days for the patio pavers to settle before you apply a sealer
Before you apply a sealer, remove any debris and make sure the patio pavement is clean. Apply sealer and make sure the entire pavement is sealed. Once the first coat of sealer is dry, you can apply the second coat.