INTERLOCKING PAVING STONES
Tremendous Decorative Visual Appeal
Interlocking paving stones can transform any external area to have tremendous visual decorative appeal. They are stylish and they create an area filled with character and ambiance and enhance the overall landscape decor. The other advantages of using interlocking paving stones as a flooring material are durability and versatility. They are also non-slip as well as being long lasting. Another functional attribute they provide is safety and directional guidance for they create a safe pavement for foot and vehicle traffic that is entering and leaving your property.
Interlocking Paving Stone Applications
Interlocking paving stones are often used for a wide variety of external applications that includes residential, commercial and community pavements. Here are some of the more popular residential applications that they are used for their functional and decorative values:
Driveways
Walkways
Patios
Pathways
Sidewalks
Pool Areas
Courtyards
Stepping Stones
Front Paving Stones
Small Garden Retaining Wall
The versatility of interlocking paving stones means there are no external area limitations of where they can be installed, no matter how small or big the area is.
Types Of Interlocking Paving Stones
The two most common types of interlocking paving stone materials are concrete paving stones and natural stone pavers. Concrete paving stones are produced in a special manufacturing process to mimic the look of natural stone with similar surface roughness, irregular and regular shapes as well as similar stone textures. Natural stone paving stones are quarried from natural stones such as sandstone, flagstone and granite. When you compare the two products, there will be advantages and perhaps disadvantages between the two. As for affordability, concrete interlocking paving stones will cost less but will not last as long as natural paving stones. As all natural stones have natural characteristics and resistance, they will outlast and outperform any man made paving product.
Interlocking Paving Stone Shapes
Interlocking paving stones are available in a vast range of shapes, sizes, colors, textures and thicknesses. The selection is quite extensive and this is why so many homeowners and landscape designers opt for this paving product. As for the design and pattern options, they are endless. You can be as creative as you wish or you can choose very basic and simple design and patterns. The following are some of the more common shapes of interlocking paving stones on the market today:
Circular Shapes
Irregular Shapes
Rectangular Shapes
Oblong Shapes
Hexagon Shapes
Traditional Brick Shapes
Diamond Shapes
Square Shapes
Star Shapes
Half Circle Shapes
Circular Interlocking Paving Stones Patterns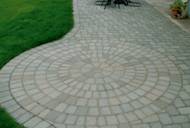 Circular interlocking paving stone patterns are becoming a popular design option for new pavement applications. This particular shape is available in many circular sizes that range from small, medium to large shapes with over 40 colors to choose from. If you have chosen a circular design, you need to consider the size and the shape of the area that will be paved. For example; choose large circular interlocking paving stones for small areas, as the larger circles will make the pavement look much bigger than it really is. For large areas, you can select small, medium or large circular paving stones depending on how big or small you want the pavement to appear.
Irregular Interlocking Paving Stone Designs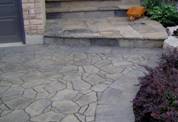 One of the latest trends in residential pavement decor is to use irregular paving design. The way this unusual paving design is achieved is by using different shapes and sizes of stone pavers. The visual effects of irregular paving designs is a favorable one for driveways, patios, walkways, sidewalks, courtyards, pathways and pool surrounds.