Backyard Patio Pavers
Introduction | Advantages | Shapes | Colors | Materials | Patterns | Maintenance
Installation | Designs | Paver Stones | Brick Pavers | Lay Pavers | Paver Ideas
Backyard Patio Pavers | Rubber Patio Pavers | Flagstone Patio Pavers
Backyard Patio Pavers
It is easy and inexpensive to use pavers for your backyard patio. A backyard patio can be a central household attraction and perfect relaxation area. Below are guides and tips on how to make backyard patio pavers.
Steps in Making Backyard Patio Pavers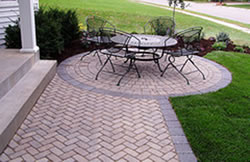 Some of the materials and tools you need are aggregates, pavers, wood stakes and boards, trowels and shovel, grading rake, measuring tape and level, vibrating/tamper compactor, dead-blog compactor, and hammer. If you hire a contractor, these tools will not be a problem for you. However, if you decide to design and install the backyard patio pavers on your own, the following tips are helpful:
Smoothen and level the area with the grading rake. Ensure that the aggregates are evenly distributed in the whole area. The procedure will result to a solid base. It also serves as a proper drainage in your backyard patio pavers.
Pack down your base using a soil tamper/compactor.
Lay the 2 X 4 board sideways for the final grade and to remove excess sand.Then,lay another 2 X 4 board flat on the ground. Position a level on top of it to check the surface's evenness.
Build a ledger frame for your backyard patio using the bender board and wood stakes. Your pavers will be in proper position because of the ledgers.
Use a measuring tape to frame the area evenly. You can't line the pavers properly if the area is not evenly framed.
Run the string from both ends of the framework. Use the stakes to hold up the string. Run a string from the outer edge to keep the pavers straight. The other string must rest properly above the pavers for proper height.
Set the pavers vertically as you lay them down. They will get sand between them and they won't sit evenly if they shift sideways. Utilize your trowel in picking up your pavers to level sand if needed. Repeat the procedure until the area is completed.
Use your tamper above the pavers to settle them down. Execute this after you have put down all the pavers.
Remove the stakes and bender board. And you are now ready for the finishing touches.
Great Backyard Patio Pavers
The tips below will help you accomplish the task handily. Follow the tips and be analytical so you can make the best design and save money in making your backyard patio pavers.
The secret is through careful planning. You can learn and make this project yourself to save money. However, hire a project contractor if you doubt your skills.
In hiring a contractor, list down the best contractors who have experience in backyard patio pavers installation and make comparative analysis of the data that you gather. Compare the firm's history, services, and charges to get the best offer.
Study and choose a pattern design before you do it yourself or hire a contractor. Probable patterns and designs are herringbone, running bond, basket-weave, circle design, fan design, and mixed design.
Determine probable expenses. Breakdown the expenses and compare it with the charges of your preferred contractor to determine how much money you'll save if you'll do the project yourself.
Hire a contractor that listens to client's ideas. The best contractors listen to ideas because they want to satisfy customers. They believe that aesthetics and practicality must merge in projects like backyard patio pavers installation.
Have someone check your design before executing it. Ask suggestions from professionals and friends or family members and compare them with yours. Ensure that you're satisfied with the design and you're comfortable with the expenses before pursuing the project.
Transform your backyard into something magnificent now. Backyard patio pavers are always a relief whenever you want tranquility. They won't fail to amaze your guests. Through careful planning, you'll achieve a fabulous paved backyard patio without spending much.