Patio Brick Pavers
Patio Brick Pavers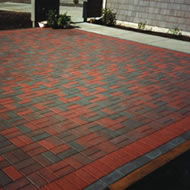 Other patio materials are available, so why choose patio brick pavers? Compared to concrete and stone pavers, brick offers durability while being the cheaper and easier-to-install option. Not just the durability is kept, but even that distinctive sense of style will be achieved with thousands of brick patio pavers to choose from. But that has posed another problem. Choosing the perfect one has never been easier since the dramatic increase of choices. This guide will help you choose among the myriads of materials, colors, styles, and textures of patio brick pavers.
Materials
Brick patio materials come in three general types:
Clay:The best thing about clay for is that it can outlast a lifetime. It can last for thousands of years, as proven by one of the earliest clay paving material in Iraq, which is dated more than 5,000 years ago. The biggest problem, however, is its big cost. It costs more to produce and to install. The clay paver material has a limited choice, too, compared to other brick materials.
Concrete: Considered to be the closest rival of clay patio brick pavers, concrete is certainly competitive because it's cheaper and available in wider options. But it will last only about 20 years and its color typically fades overtime, unlike the fade-free clay.
Stone:This brick patio material is also considered as a very durable material. Stone brick patio pavers are doing great in the market for their unbelievably cheap price. Since these are natural, it requires less maintenance.
Choosing among these materials will be choosing among durability, cost efficiency, and design availability. All of the above are beneficial and have some drawbacks. But the best is yet to be judged by you.
Colors
After choosing the material, you'll have to do yet another choosing. This time, it's all about colors. Let's make it easier for you with these two general choices:
Monotone:As the name implies, this brick paver comes only in one, single, mono color. It can be the darkest black or the brightest ivory. As long as it only comes in one color, then the set is called a monotone. Monotone patio brick pavers are the ideal choice for larger areas because they can easily differentiate the patio from other large elements in the same area. But be warned that if they are stained, that single stain will be very obvious.
Multicolor:If stains are obvious on monotone pavers, they can easily get lost in the multicolor patio brick pavers. They are, after all, decoratively "stained." They have a combination of contrasting or complimenting colors that look interesting together. So interesting that multicolor pavers are great for smaller spaces.
Monotone or multicolor, both are still available of these brick paver colors in wide variety of options.
Shapes and Texture
Contrary to popular belief, brick patio pavers have more shapes and texture beyond the plain, standard block.
Shapes: The standard block bricks may provide that classic, old look. But W-block, S-block, X-shapes, fans, parallelograms, octagons, pentagons, and many other interesting shapes will certainly make any patio look more interesting.
Texture:No need to settle on the boring plain texture of patio brick pavers. Modern brick manufacturing provides more interesting textures that, like colors and shapes, provide uniqueness on the patio. Shot texture, clay stable, exposed aggregate, and clay stars are among the most common. Don't be surprised to have even more textures to choose from.
Deciding the best among these types, colors, shapes, and textures can be quite daunting. But the best thing is that these wide varieties will lead to finding that perfect brick for the perfect patio.