How To Lay Patio Pavers
Introduction | Advantages | Shapes | Colors | Materials | Patterns | Maintenance
Installation | Designs | Paver Stones | Brick Pavers | Lay Pavers | Paver Ideas
Backyard Patio Pavers | Rubber Patio Pavers | Flagstone Patio Pavers
How to Lay Patio Pavers
After the tedious task of choosing and planning, finally it's time to build the patio. One of the most loved qualities of pavers is the simplistic installation that every homeowner can easily do. But someone who have insufficient or no experience on how to lay patio pavers should learn everything necessary before starting the tedious but rewarding project.
Things to Consider Before Laying Down Pavers
In most cases, laying down patio pavers can be done right away. But in rare cases, it needs enough preparation and permit before commencing with the project.
1. Plan. The process on how to lay pavers for patio is as simple as completing a jigsaw puzzle. But you need first to create your very own puzzle by planning how to lay patio pavers accurately. The plan will be your guide and saver from a lot of hassles and costly troubles.
2. Local requirements. Check with your city rules if a building permit is necessary. It might be needed if the pavers will be installed for the driveway or water runoff areas.
3. Safety first. Whatever plan you'll follow on laying pavers on your patio, it will always require safety. Wear comfy clothes, a pair of jeans, hard boots, work gloves and eye protection.
Now that you already know the basic things about installing pavers for your patio, we can now discuss how to lay patio pavers.
Step-By-Step Guide on Laying Patio Pavers
It's time for the real work. But do you install pavers for a patio perfectly? Just follow what was planned and the guide below so that everything will be alright.
1. Clearing the site.This involves digging out loose earth, stones, and most importantly the plants. Make sure to remove the roots of the plants or they will cause sinking pavers.
2. Laying the foundation.Cover the area with the foundation (can be sand, dirt, or anything similar). Compact it with a whacker packer at least twice or until the surface is nice and firm.
3. Adding the bedding.Coarse sand is the most widely used material for the bedding. It should be at least 25mm thick from the foundation's top layer and must be nice and firm, too. Even out the bedding with a long and straight float. This is very important before laying out patio pavers. Water might run off beneath and destroy the laid down pavers if the bedding isn't even.
4. Laying down the pavers.This is one of the important stages on how to lay patio pavers perfectly. Start from the corner and work towards the middle. Borders must be laid down first, if the patio has that. If it will be installed against your house, then start at the house's base.
5. Cutting of pavers.You'll never need to cut pavers until the last few blocks to be laid down. In this case, you'll need to use a masonry saw and a hammer to cut the paver's edge.
6. Checking the level.Pavers will be laid down evenly if the foundation and bedding are even. But better make sure. Tap down pavers that are too high and add more sand underneath ones that are too low.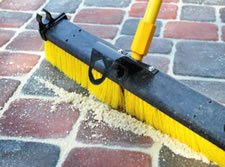 7. Locking the pavers.There are now interlocking pavers available. A plastic retaining edge is enough to lock them in place.
8. Compacting the patio.Some paver manufacturers do not recommend compacting as a part of how to lay pavers for patio. If permitted, then run a compactor over the pavers to firmly set them.
9. Filling the joints. Sweep some sand over the pavers to fill in the crevices. It's easier to do this on dry patio and with dry sand.
10. Finishing touches.Wash off the excess sand, apply sealant, plant flowers, and set up the furniture.
The entire process on how to lay patio pavers can be really daunting. But after all the hard work, just one look at the wonderfully and beautifully laid down pavers will feel very rewarding. But if you want to make your job easier, a professional contractor will be a great help. They know exactly how to lay pavers for the patio.