Patio Pavers Stones
Patio Pavers Stones
General Information
There are various aspects to consider when building a new patio or remodeling an existing patio. One of the important things to consider is what type of material to use for the flooring system. Other things to consider may be the decorative impact you want to create, what material will withstand harsh weather conditions and high traffic surfaces, and what is the best type of material to use that will provide a safe ground surface.
Patio paver stones are an ideal landscaping material that will most certainly provide elegance and decorative appeal as well as providing a safe patio pavement. Paver stones are available in a wide variety of shapes, sizes and there are many colors to choose from. There are two main types of stone pavers. One is natural stone and the other is a concrete paver stone that imitates the look of natural stone.
Choosing between the two paver stone types is a personal preference. As for the designs and patterns that can be featured, there are no limitations to ones imagination to achieve that perfect look. Patterns range from simple and basic to more unique and unusual paving patterns. The design factor of patios is deciding which paver stone shape will best suit the pattern you want to achieve. This is something to seriously think about. The size of the patio and the shape of the patio are important elements and should be taken into consideration, especially for those who are not landscape designers.
The Benefits Of Paver Stones For Patios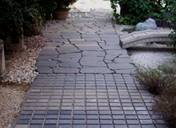 There are so many benefits and advantages to using paving stones over other flooring materials for patio surfaces. Choosing the right material for your project is paramount for the longevity of your patio. The following are some great examples as to why so many residential, community, and commercial applications feature stone pavers as the material of choice for patio flooring:
Stone pavers will add so much character and elegance to the patio presentation
The patio pavement can complement the overall landscape presentation
They are available in many shapes, colors, textures and various surface finish
There are many designs and patterns that can be achieved to suit personal decor
Stone pavers are very durable, very versatile and will last for decades
They have great resistance values from natural and non natural elements
They are non slip when sealed properly
They provide a safe ground surface as no cracks or chips will appear
They are affordable even for those who are on a small budget
They create a clean and pleasant patio environment
They can increase the price of the property
No weed growth to worry about
They will not rot and no termite infestation to worry about
They require very little maintenance
They can be easily replaced if paver gets damaged
They are easy to install for DIY home owners
Should Patio Paver Stones Be Sealed?
Patio paver stones should be sealed after installation and also they must be re-sealed every few years for continuous protection. What a sealing product actually provides is a top layer of film so nothing can penetrate through the surface. Surface protection is very important as there are natural and non natural causes that can affect the pavers.
Sealers provide a non slip patio pavement in the wet. No moisture will build on surface. The stone pavers will not fade in color, from wear and tear or changing weather conditions. They protect the pavement from stains and debris markings. The decorative impact of sealing products also can add character with a shiny finish.