Rubber Pavers Introduction
What Are Rubber Pavers?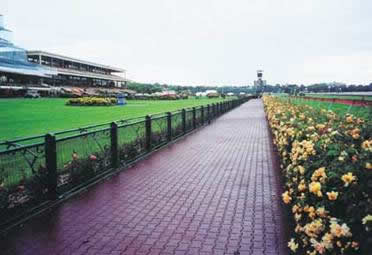 Photo of rubber pavers installed at racetrack for safety.
Rubber pavers and flooring, is a versatile material commonly used in commercial, residential, landscaping, sports and fitness domains. It is a popular product and rightly so, its benefits speak for themselves.
Rubber Pavers can be made from recycled tire rubber. They are attractive, non-slip, maintenance free and very durable flooring. They are available in a variety of sizes, so there is bound to be a dimension to suit your application requirements.
Rubber Pavers have an excellent reputation for being able to withstand the effects of high traffic areas and constant abuse. They can be permanently adhered to your surface or you can use the interlocking range of Rubber Pavers, for these can be removed and replaced with great ease.
Rubber Pavers are available in a variety of colors, such as; terra cotta, black, red, beige, green and brown.
Applications
Suitable for horse barns, wash aisles, tracks and paths, due to the non-slip features. Perfect for flooring in gymnasium rooms, playgrounds, walkways and driveways. Rubber pavers are great for around the backyard, on patios, verandahs and balcony floors.
The anti-slip feature makes rubber pavers ideal for use in supermarket aisles, selling floors, surrounding swimming pools, as well as nursing homes and childcare facilities.
Installation
Rubber pavers are an easy to install product. Simply measure the size of your site, and then order the amount of paver's required. They can be cut to size with ease by using a utility knife. Then lay the rubber pavers in your chosen design!
A good sub-base is crucial for best results when installing Rubber Pavers. Once you have excavated your site, add a layer off crushed stone aggregate as your base material. This will also ensure that your base is permeable. It will allow moisture to escape through the joints and evaporate into the base material. If you feel that your site requires more protection from moisture build-up, then it is recommended that you install a plastic perforated drain pipe.
Rubber pavers can be purchased with an inter-locking system for no fuss installation, or otherwise an adhesive will be recommended.
Rubber Pavers, once installed will require little maintenance. It is advised that you regularly clean them with a high pressure water hose; this will remove dirt and debris caught between seams.