SLATE TILE APPLICATIONS

The Natural Beauty of Slate
Slate is quarried in large sheets that have been in formation for centuries from heat exposure and several natural elements on the crust of the earth surface. Slate contains a high and rich iron content which darkens or lightens the texture whilst it's forming. Slate is regarded as one of the most beautiful tiles that can be used for a wide variety of internal and external flooring applications. The natural beauty of slate oozes with elegance and character because of the variations of textures that naturally exist. Slate tiles are exceptionally durable for they have tremendous long lasting attributes and no two tiles are identical in textures, which makes them so unique.
Advantages Of Slate Tile For Exterior Fireplace Applications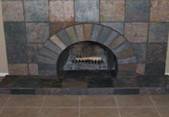 Slate is a natural stone which offers great beauty, durability and strength for a wide variety of floors and wall structures such as fireplaces. Slate is a great facing material for fireplaces especially where children are present as the tile is not hot to touch when the fireplace is in use. Another advantage of an exterior fireplace is that it can be used as an outdoor cooking utility.
Slate Tile Applications For Exterior Applications
The versatility of slate tiles is that they can be featured in any internal or external flooring areas of your home and office. For residential applications the following are the more common areas where slate tiles are used on external applications;
Driveways
Pool Areas
Patios
Courtyards
Outdoor Living Areas
Walkways
Pathways
Sidewalks
Verandas
Fire Place Facing
Slate Tiles For Fireplace Facing
Outdoor fireplaces can provide a functional purpose for outdoor heating and they are also utilized for their decorative appeal within the landscaped setting on the property. One of the latest trends is featuring slate tiles as the facing material for exterior fireplaces. Slate tile fireplace applications can also be utilized for interior applications. Whether the application is interior or exterior slate tiles will provide durability, strength and long lasting attributes for many years.
Facing applications of slate tiles for fireplaces are easily installed by a professional or they can be installed by DIY using the right tools and following simple facing installation methods suitable for slate tile.
Exterior Slate Tile Installations
The installation process is basically the same for both indoors and outdoors, but the base material required will be different. Exterior slate tile applications require a different type of installation compared to interior applications. Interior applications can be installed straight or directly onto concrete, wood or timber walls using a mortar or grout joint material. Exterior applications of slate tile can be applied directly onto a slab, for good stability and control of the material. A good base will provide many years of long lasting attributes for the exterior slate tile application. Installation processes can be carried out by professional contractors as well as DIY projects.
Slate Tile Patterns For Exterior Fireplaces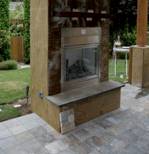 The importance of a slate tile shape will ultimately determine the overall pattern of the application. Generally, slate tiles are cut to a square or oblong shape. Otherwise slate tiles are irregular in shape. Irregular slate tiles can only be installed in random and irregular patterns. Square shaped slate tiles can be laid in a wide array of patterns depending on the applicant's preferences in style and design. Common patterns in which slate tiles can be laid and used for exterior and interior applications include the following:
Running Bond
Herringbone
Smoke Stacked
Parquet
Uniformed
Irregular
Zigzagged
Following guides and instructions on assembling slate tiles in certain patterns will help lead to a successful application. Fireplace slate tile applications for exterior surfaces should be done with precision and strong materials to withstand all types of weather conditions.