PAVING STONE STEPS
Summary On Paving Stone Steps
Paving stones are a great landscape product to use on various applications including external steps and stairs. They have exceptional decorative appeal, they provide safety when going up or down steps and they also add a new dimension in character when used in and around garden settings. There are many benefits to paving stones when used as a material for a wide variety of residential applications. Advantages include a wide variety of shapes, sizes, and surface patterns as well as many colors and texture contrasts to choose from. Other advantages of using them include excellent durability, they are very versatile, they feature a non-slip surface that is an important safety aspect and they are also low in maintenance.
Natural Stone Vs Concrete Paving Products
Paving stones are either produced from natural stone or they are manmade and manufactured from specific cement and other base materials. There are differences between the two products when it comes down to long lasting performance, weather resistance and durability. All natural stone paving stones are cut from natural stone such as sandstone, flagstone, marble, travertine, limestone and granite. The natural stone pavers score highly on their durability because they are natural product and can withstand harsh weather conditions. They are also non-slip and therefore great for step applications.
Concrete paving stones are still a great product to feature on outdoor steps. There are many benefits of them. They are more affordable than natural stone, they are specifically made to mimic the look of natural stone pavers and they do have great durability attributes. As for maintenance, they tend to require regular maintenance such as sealing the steps every few years to maintain a non-slip surface.
Paving Stone Steps Designs And Patterns
There are some great paving stone patterns that can be used for external steps that range from basic patterns to more extravagant designs. The following are some of the more popular paving designs that are used on steps:
Running bond Pattern
Basket weave at 45 Degree Angle Pattern
Basket weave at 90 Degree Angle Pattern
Herringbone Pattern
Irregular Pattern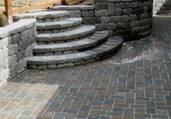 Although it is an individual choice, there are some careful considerations that should be adhered to before choosing the pattern, as every step application will be different in size, length, height and width. When choosing the paving pattern, select a shape and size that would be suitable for the width and length of the steps. Circular paving stones are not a design that is featured on steps, as this pattern is more suitable for medium to large flooring applications. If you are unsure, seek professional advice from a paver contractor or simply take all of the measurements to a nursery or supplier for their expert opinion.
Running Bond Pattern
A running bond pattern is a popular laying pattern that is often featured on outdoor steps. The advantages to this basic laying pattern are it can be featured on all step sizes, widths and lengths. The paving stones are usually rectangular or square shapes and the paving stone row is installed in an offset position from one row to the next.
Irregular Paving Stone Step Design
One of the best design options that would be suitable for all step application sizes and width is the irregular pattern. The combination of several paving stone shapes and sizes are used to create this unusual pattern effect.
Where You Can Feature Paving Stones On External Steps
The main function of outdoor steps is usually to provide a safe and easy passageway to ascend, descend, enter or exit steep, elevated or unlevel landscape environments with ease. Outdoor steps can do more than just provide an easier and safer path on your property; they can enhance and complement the overall landscape presentation.
Here are some examples for you to consider in using paving stones on applications that require steps:
Elevated Front Entrances
Elevated Back Entrances
Pool Steps
Patio Steps
Courtyard Steps
Elevated Garden Steps
Elevated Barbeque Areas With Steps