Your beautifully landscaped gardens are your pride and joy. On a gorgeous Sunday morning you spend it in your gardens maintaining its magical settings. Pretty flowers, gorgeous garden paths are enough to make you want to spend the whole day outdoors. Does this sound like you?
Some people pay thousands of dollars to have their gardens wonderfully landscaped with accessories, plants, features, flowers and even paved areas where you can sit back and enjoy this peaceful serenity.
The first couple of weeks are exciting because you enjoy maintaining this peaceful area. As weeks go by it becomes a chore and a hassel so you either hire a professional or leave it as is.
Here we will go through some simple steps that will help you get back into maintaining your landscaped gardens.
Keep the Flowers Looking Pretty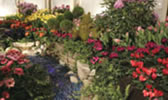 Most flowers enjoy a good drink. So you should water them on a daily basis. If your town has water restrictions in place then put a bucket in your shower and use this water or use the washing machine water, there are other alternatives to help you watering the flowers.
Some types of flowers also need to be trimmed back. So using garden scissors just trim off the areas where you think it's needed. Also remove all dead flowers and leaves this will deliberately make a difference. 2 or 3 simple steps a week will help you maintain your pretty flowers.
Grass and Lawns

Grass tends to grow with the blink of an eye. All you need is a lawn mower and edge trimmers to keep your lawns look perfect. Lawns generally need to be mowed at least once a month if not twice a month, especially if it rains in between.
If you're in a state where the temperature is high your grass will also need some watering. Preferably in the late afternoon using a hose spray the water over the grass not soaking it. Just give it enough so you're able to see little drops on the grasses surface.
Paved Areas
Paved areas around your landscaping also require simple maintenance, whether it is a driveway, walkway, garden path or patio. Depending on the type of pavers, there are special types of cleaners and sealers available for you to use to maintain them.

Sealers offer a protection coating that will stop stains from penetrating through to the actual pavers. Sealing should be applied at least once a year.
General maintenance that should be done to ensure your pavers last a lifetime is;
Brush over them with a broom once a week. This will remove dust, dirt, grime and unwanted leaves that may affect the surface of your paved area.
Wash over them with a high pressured hose. This will remove harsh food, oil and grime stains.
Check them regularly for any damages that may result in an accident.
Landscape Ornaments
Ornaments are an important part of landscaping. They add to the finishing touches of the garden. They also enhance and compliment the beautiful landscaping surround them.
Some popular ornaments feature throughout landscaping are;
Water Features
Pots and Urns
Garden Gnomes
Bird Baths
Tables and Chairs
Sun Lounges
They all require no maintenance except a general check over to make certain they are working to their best abilities.
Following these simple maintenance procedures on a regular basis can ensure that your Landscape will be the talk of the street!