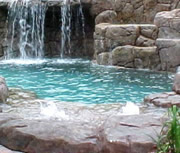 Having a pool out the back of your home especially during summer time is the best asset of your home. After a long hard days work jumping in to your own pool is just so refreshing. If you have not got a pool in your yard and your do definitely have the room why not make the decision and surprise the rest of your family by buying a pool.
There are many materials that come with a pool like the decking, coping and flooring. Coping is the most important part of the pool.
What Is Pool Coping You Ask?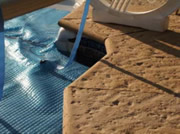 Well pool coping is the trimming around the edges of your pool!  It is also known as the cap for the pool shell. There are many materials that can be used for pool coping but which one will be the best and suit your pools needs. This will all depend on if your pool is in ground or above ground.
Pool coping is an essential part of the pool, as it protects people when entering and exiting the pool. Coping also protects the overall structure of the pool.
There are many tasteful designs and shades of color pool coping can be designed in. but it is your choice.
Concrete Pool Coping
Poured concrete coping is the most popular choice most homeowners opt for. The beauty of using poured concrete is that the pool deck, shell and coping become one mass all combining together. There are no joints or edging which is great because edges in a pool area can be dangerous. Beside is a picture of what concrete coping will look like!
This type of method is great for the overall look of the pool coping because it may make the smaller section of the coping and deck seem a lot bigger than it truly is.
Poured concrete is a mixture of cement, sand and water. This mixture is placed into coping moulds that are in place around the pool area. There are many edging designs that are available to enhance and feature throughout your pool area.
Concrete is a sturdy material. It is durable but not flexible. The water over time can fade the fantastic colors of the concrete pool coping away. So you may need to use a sealer to make certain that this does not happen.
Natural Stone Pool coping
Natural stones like granite, limestone, fieldstone and slate are all used as pool coping. Natural stones are produced over millions of years by chemical breakdowns, erosion and mineral deposits. They would have to be the most durable, flexible and ever lasting material that is best for pool coping. The natural stone pavers are suited to be used on in ground pools because they are slip resistant and can be sealed for further protection.
Other materials that are suited for pool coping include;
Precast concrete
Aluminium for above ground pools
Plastic for above ground pools.
Flagstone Pavers
Clay Pavers
Tiles
Colors and Patterns to Blend with the Pool Area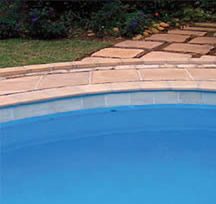 Every material that can be used for pool coping is naturally or manually produced in some magnificent colors. Your pool coping can be colored in a vibrant or subtle color that's purely up to you. But my advice is choosing a color that is cool because you do not want it to heat up and burn your feet as darker colors do. So think and choose carefully.
Pavers that are used for pool coping can be laid in so many patterns its un believable. You can make up your own patterns or stick to some basic patterns like herringbone and running bond.
Whatever your choice may be you'll certainly find it with anyone of the above mentioned materials.
Each material has there own benefits and down falls. Everybody has different needs so when you decide on choosing the best material for your coping do extensive research so you will buy what is best for you.