Your garden is the most sacred part of the home. It's a place of beauty, life and color! It's a place where at the end of a hard days work you can retreat to and enjoy the precious beauties of your own perfectly handled garden.
Landscape décor is becoming more and more popular each year. What is landscape décor you ask? Well let's explain; landscape décor is many different categories of ornamental features. Landscape décor is just like the interior décor you use in your home but it's designed to meet landscaping needs.
Landscape décor can add style and creativity to your landscaping. Whether is a small piece of décor or a large extravagant exotic piece of furniture be sure that you will definitely be styling your garden to your own taste.
Pots and Urns are Stylish Landscape Décor
Pots and urns are widely used by every home owner today. In the olden days pots and urns were made out of terracotta stone. They were solely used for planting small flowers and plants that grew to a small height.
Nowadays pots and urns are being used for decorative     purposes. Some still us them as planter pots and urns but majority use them as part of their décor. A pot or an urn is great for areas that you can not decide on what to put their. Pots and urns can be used in corners of your patio where it may seem dull or you can even place 2 on either side of your front door to add a bit of style.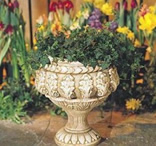 Pots and urns are made in many materials. Some of these include; concrete, stone, terracotta, wood, plastic and aluminum. They are all available in many natural and vibrant colors for you too mix and match with your landscape and home color scheme.
Tables, Chairs, Benches & Hammocks are all Stylish Landscape Décor
Tables and chairs are essential items that everybody uses as part of their landscape décor. You can choose from many different styles and materials like; cast iron, aluminium, wrought iron, concrete and stone. Add them to your patio or pool area and it will be a place where you congregate with your family and enjoy relaxing in your stylish tables and chairs.
Garden benches can be placed in your landscape in an area where it is peaceful and quite. Hammocks should be put in this area too. They can both be used purely for decoration or they can be put there to relax on. Benches can be produced in any shape, size or form. They are available in many fabulous colors which will definitely be stylish and a great part of your landscape décor.
Garden Lights are Stylish Landscape Décor

Not only is your landscaping beautiful during the day, you can also make it just as beautiful of a night time by adding in some stylish garden lighting. Garden lights can help protect you, as well as your guests of a night time when entering and exiting your home.
There are various styles and designs of garden lighting. 2 main types that are popularly used are solar powered and electric garden lights. Add a couple in among your gorgeous landscaped gardens and they will light it up with style.
Water features are Stylish Landscape Decor
I think water features have to be the most popular piece of landscape décor. You can get them in any size, shape or form as well as any color, design or setting. Many people choose to design their own and others tend to hire a contractor. They can be installed into the ground or they can be tabletop water features which sit on your patio table.
Water features are relaxing and calming because you're hearing the trickling sounds of water. They are highly decorative and stylish especially when they are used in amongst lots of flowers and trees. Ponds and water gardens are also a special part of your landscape décor.