Why are Pavers the Most Popular Choice for Walkways!

Walkways are an essential feature for the exterior of your residential property that gives direction to an entrance or an outside pathway to your home. Applying pavers to walkways are definitely the ultimate choice by most homeowners, designers, architects and contractors by far. They are a beautiful decorative product that will allow character, charm and elegance to any exterior walkway application.
Where to Apply Pavers as a Walkway?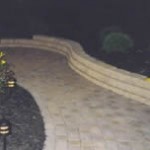 There are no right and wrong areas where you can apply pavers. You be the judge and decide the most suitable area that will be beneficial for your requirements. The most common areas are:
A pathway that leads to the front or back door as an entrance or an exit.
A walkway to a driveway or garage.
Pool area entrance at the gate.
Patio area walkway
Courtyard walkway
Barbeque area walkway
A pathway to landscaped gardens.
A pathway that leads to a clothes line.
The Benefits of Pavers will Surprise you!
The following are the benefits that pavers have to offer;
Pavers are versatile, durable and will last many years.
There are many decorative patterns and designs that can be achieved due to the large variety of shapes that are available.
Color choice is endless as there is an array of colors to please all.
Pavers are weather resistant to any climatic change.
They are slip resistant in wet weather conditions.
Add value to your home.
Easy care and low in maintenance to upkeep.
You can relocate pavers to another area in years to come.
The beautiful visual effect that is inviting for any paved walkway to be walked on.
Prevents dirt and grass from foot traffic to be brought into your home.
There are Three Main Categories in Paver Materials
The main three paver materials that are most commonly used for walkways are;
Natural stone pavers
Concrete and brick pavers
Clay pavers
Natural stone pavers

Natural stone pavers are a natural stone which are produced naturally by nature. It is quarried from all over the world. If you are seeking a walkway that projects a more natural look and feel, natural stone pavers are the right choice for you.
Be aware as color is limited because of its natural beauty and originality. Also the color will differ from one paver to another, unlike man made pavers. That is one of the main reasons why they are so unique and desirably so.
Concrete pavers

Concrete pavers are massively produced by mankind in factories world wide. The variety in color, shapes and sizes are limitless. That is why they are the number one pavers to be applied for a walkway. You can be as creative as you choose with the design and color to achieve the most desirable decorative pattern for your walkway.
Clay Pavers
Clay pavers are produced by man kind. There intense firing process binds them together making them very durable. Their colors are of a rustic feel like; browns reds and coppers. They can be designed and laid in many patterns. Be as creative as you like on your walkway using clay pavers on your walkway will not only benefit you they will please others who pass over it.