A Paved Driveway is a Beautiful Driveway
Homeowners are increasingly becoming more articulate in the presentation of the external appearance of their residential properties. A driveway that is located at the front of your home is the most prominent feature besides the actual structure of a dwelling.
If you have an existing concrete driveway that may look a bit shabby and uninviting and you would like to revitalise the exterior of your home, applying pavers are the perfect solution. Pavers will meet all your expectations and beyond.
Paver Materials for Driveways

There are three main paver materials available to cater for the demands for a driveway;
Natural Stone Pavers
Concrete and Brick Pavers
Clay pavers
So you the homeowner have the option on what paver material to choose to meet all your requirements. If in doubt you may seek professional advice and further information from a paver stockist in your local area.
Benefits and Features of Pavers for a Driveway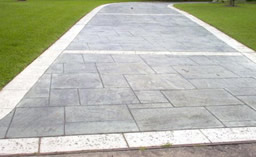 It is a great idea if you take a drive or a stroll around your neighbourhood to compare the visual effect between a driveway that is concreted and a driveway that has been paved. That will definitely make your mind up which driveway looks more appealing. The comparison between the two will delight you and excite you.
One of the great benefits of what pavers have to offer are the amazing colors that can be well co ordinated  to blend in with the area surrounding close by to a driveway. For example;
Brick color of the house
Color of the garage door
Garden Landscape Retaining Wall
Decorative Statues and Pots
Flowers and Shrubs
Shapes and sizes are also another advantage as there is also a wide variety available. The patterns you can create with pavers are an enhancement to a driveway as well as charming.
Paver Sealants for Driveways
Sealing you pavers after completion is highly recommended. The reason for its importance is a sealer will lock in the color in the pavers. It will also prevent the color from fading due to harsh UV rays from the sun.
Any oil stains that may occur from a vehicle are easier to remove. An oil drip tray is a fantastic idea for an easier solution.
Another advantage is it will make the pavers more slip resistant in wet weather conditions. A sealer should be applied on pavers every three years to retain their color and beauty.
Maintenance of Pavers for a Driveway
If applied properly the great aspect to pavers is they are generally low in maintenance. They can be easily replaced if any damages have occurred. Just lift out damaged paver and replace with another. It is simple as that.
It is advisable to always purchase extra pavers in case any paver needs replacing in the years a head. An extra two meters is a sufficient amount to have on standby if ever needed.
General maintenance is hosing down pavers with water if they get dirty or dusty.
This information hopefully has made up your mind on revamping your dull driveway with pavers. Pavers offer many exciting benefits so visit a paver retailer today!