Once landscaping is beautifully designed and constructed it offers many natural wonders. It's a place to entertain, a place for trees and plants to grow and beautify, and a places for flowers to shine and show off their gorgeous colors. You take a lot of time in the careful designing of your landscape. You also care for it on a daily basis, provide areas with water and mulches to help them grow and create that surreal setting you've always wanted.
Landscape is part of all our lives. It's the first place we see once we arrive home. Then it's the second place we see upon entering our backyards. It is also a place where the family and friends can gather to enjoy a barbeque or get together. When you're entertaining family and friend do it in style by using fabulous garden décor!
Why Garden Décor?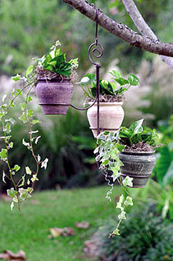 Garden décor is the ultimate décor. Many companies offer many delightful designs for us to choose from. We can mix and match furniture that will hopefully blend through to all parts of the outdoors.
Our garden décor can act like a retreat for you and your family to turn to for a little peace, lying on a pool lounge by the pool listening to the calming sounds of water or the peaceful chirps of the birds flying past, it's an oasis! We all owe it to ourselves to focus on the special things in life that relax and bring us much joy and happiness. So go out there today and purchase some garden décor that will have you relaxed and enjoying being at home in your own private oasis.
Where Do I Use My Garden Décor?
Garden décor can be used just about anywhere. The back yard, front yard, inside the home, patios, pool areas, gardens, landscape and even the office or business. Whether is a single chair or a magnificent water feature you'll be sure to find a place for it around you is lushly designed home.
Tell Me, What Types Of Landscape Décor Is There For Me Too Purchase?
Well where would we like to start!
Around The Garden/Landscape

Garden décor that can be used in the garden and landscape areas are things like; statues, water fountains, waters features, garden gnomes, pots, urns and plaques. You can purchase any one of these pieces of décor in many colors, shapes, styles and sizes that will match and compliment your landscape gardens.
On The Patio
A patio can be an area where you bring your guests to entertain them. You and your family can enjoy nice and quiet meals on a patio. The best and ultimate garden décor for a patio is garden furniture. Tables, chairs, lounges, stools, bars and barbeques are ideal for a patio. Entertain and feeds your guests on the table and chairs. Once you've eaten you can all retreat back to the lounge and bar for some quiet drinks.
Patio furniture is made available in many styles and materials. Materials like; cast iron, timber and concrete can be used to make up patio table and chairs. So it's all up to you. So get creative and why not even add some pots and urns with some pretty flowers in them to your patio area.
The Pool Area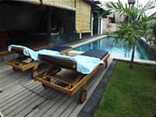 Everyone that owns a pool will agree with me and say that every pool needs a sun lounge by the pool side. A sun lounge or pool lounge is the ideal garden décor for you enjoy just after you had an enjoyable swim around in your pool. Add some plants in a pot or even a table and chairs where you can enjoy meals by the pool.
So go out there and find that perfect styled garden décor to match your landscape. You will without a doubt add some classy features to the landscaped area of your home.