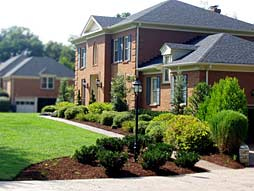 The Landscape is an important part of our home. Landscaped areas are seen out the front and back yard of our homes. Pretty flowers, elegant plants, décor, flowing water, pavers, and statues are all part of a landscape. We all would like our homes to be showcases and hearing other people talking about our own landscape makes us happy, delighted and pleased. People walking past admire the beautiful views of our own landscape. You can build and design your own landscape or get it done by a professional.
Your landscape can be a peaceful place you can turn too when your in need of some quality time with the wonders of nature. You and your family can enjoy a nice quiet meal together in your landscaped backyard. There are many benefits of having a landscaped area around your home so why not build, plan and design your own settings.
One of the main beauties of having a landscape area around your home is the attraction you will make for native wild life to come and enjoy this area as well. You will enjoy watching native wildlife pondering around this wonderful area some may even make it their own home.
Planning and Designing Your Own Landscape
Planning and designing your own landscape ideas is the first step. Take a wonder around and see what other people's ideas are. Visit public and commercial gardens and grab some ideas. This will be a great start it will get your mind flowing which will make you come up with many stylish ideas. Take a note book with you and jot down some ideas that you may be interested in. Remember plans always change over time so try not to stick to one idea.
I think the most important part of planning your landscape is to match it with your lifestyle. If you enjoy being outdoors and working on the garden then why not include some vegetables that you can grow yourself, they will require you to attend them daily by feeding and watering. If you do not enjoy being in the landscaped gardens then add plants into your plan that will not require any maintenance except a drink of water every now and again.
Trees whether they are large or small provide a shaded area for you to enjoy. Trees can also provide shade for your home keeping some areas cooler than others. So when you are planning where to put the trees keep in consideration what benefits they will offer to the area you will be planting them. 1 helpful hint is do not place larger trees to close to your home they may cause damages in fierce storms and their roots which are under ground can grown quite fast underneath the home which can result in lifting.
Choose flowers that will add dashes of vibrant colors. They can help act as focal points throughout the landscaping areas. Remember to study your yards, keep in mind where the sun hits during the day, where the wind blows and most of all where is the wettest place.
Helpful Tips to Get You Started
We recommended you and your family to set a landscaping goal! Sit down together and talk about the things you all would like to see throughout this area. Here are some points to get you all thinking about what you all would like to see in your own landscape;
An entertaining area
Flowers
Plants
Ponds
Pathway
Recreational area
Attracting wildlife. E.g. birdbaths
Water usage
Privacy in your own backyard
A swimming pool
So take a walk around and enjoy viewing others landscaping. You will come out with many ideas that will help you getting started on planning and designing your own landscape.