Enjoying Your Swimming Pool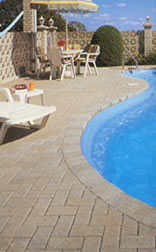 Don't we all love the feeling of summer? We retreat to the beach or local swimming pool to cool down and sun bake to get that excellent tan. If you have your own swimming pool you must be blessed. On hot days you can enjoy your pool with your own privacy.
As you and family and friends gather to enjoy the gorgeous sparkling water of your swimming pool you can also admire your furniture and beautifully landscaped gardens.
Some of you may not be as lucky as to having your own back yard pool but would like to, so why not go out there today and search for a pool that will suit your back yard. Your family will love the idea.
Pool Surroundings
A pool surrounding is very important. It has to meet with required laws like being slip resistant. You may have young children who always love to run around the pool area and into the pool so you must consider choosing the best surrounding that will protect them and yourself.
SURROUND YOUR POOL WITH PAVERS
Pavers are the ideal choice for your pool surrounding. Their available in stylish and enhancing colors, shapes and patterns to blend in and compliment your pool area. You can even choose a paver that may be similar to the lining of your pool. For example; if your pool coping is concrete why not choose a concrete pavers to surround the pool.
Concrete Pavers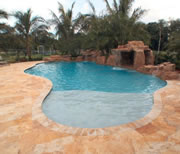 Concrete pavers are man made out of a mixture of cement, sand and water. They are placed in moulds and left to dry. Concrete pavers can be colored to any style you like. Color pigments are added to the mixture of concrete and the end result is marvellous. You will be highly pleased with the affects of concrete pavers.
Concrete pavers are coated with a special formula that makes the slip resistant and water proof. They are also unaffected by salt and chlorine water.
Natural Pavers
There are so many natural pavers for you to choose from including; sandstone, travertine, cantera, limestone, granite, marble, bluestone, and many more. They are all fine and stylish pieces of nature. Found in natural habitats they are quarried into some of the most enticing shapes and pattern which are perfect for your pool area.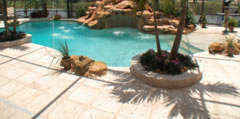 Natural pavers are stones that are highly unique in color. They provide a stylish outlook which is perfect for the elegant pool. They offer a natural quality of being slip resistant. Although they do need to be sealed to ensure that they are salt and chlorine proof. Chose from the elegant range of patterns like; herringbone, parquet and basket weave.
Natural pavers can also blend in with your coping material. Natural pavers come in a variety of lighter shaded colors which is highly recommended around the pool.
Brick Pavers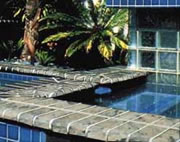 Brick pavers are a perfect choice also for surrounding your pool area. They offer a stylish outlook which will match perfectly with your pool area. Brick pavers are made out of a cement mixture which is heated by a firing process. This process is known as the binding process which is meant to bind the brick mixture together making a solid paver. Brick pavers are great around the pool because they are slip resistant.
Flagstone Pavers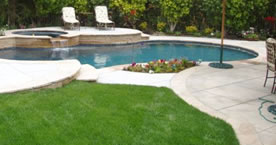 Flagstone pavers are another ideal paver to be applied around your pool area. They will add much beauty and compliment the surround gardens. Flagstones are relatively larger pavers which once applied their laying patterns are random and irregular.
Flagstone pavers are a natural stone. They can be sealed for further protection which is highly recommended around your pool area.
So now that we have provided you with this helpful information and just a couple of stylish types of pavers why not go out today and purchase them and build those dreams of having your own glorious pool. You will be deeply satisfied with the overall stylish look that pavers have on offer.