Is there a space around the outside of your home that annoys you because it's dull and boring? It always has you thinking, what can I do to fix it up?
If there is a grass patch in your backyard that is lifeless any dying you must be thinking how I can fix this.
Well I've got the right solution for you. Get rid of it and add replace it with decorative concrete. It will definitely improve the look immensely.
Decorative concrete is available in many exciting colors, patterns and shapes. It can be applied to any part of your outdoors for example your driveway, patio or walkway.
Applying Decorative Concrete to Your Driveway
Decorative concrete will add that much needed beauty to the front of your home. Your driveway is the focal point of the front of your home. So a decorative concrete driveway will be visually pleasing to both you and on lookers that will pass by your place day by day. You will have the whole street wanting to know what material you have used on your driveway. When you tell them that its decorative concrete they'll be rushing out to find a contractor that specialises in decorative concrete to have their driveway done.
Some other common places where you can apply decorative concrete to enhance the look of the surrounding areas are;
Walkways
Walkways are an important part of your home. They lead you to a destination of your home like the back yard, front yard and inside the home. What better flooring material could you use than decorative concrete for this special area?
Patios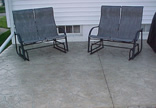 A patio can be a place of relaxation. It can also be a place where you entertain your guest and family enjoying a nice meal. Decorative concrete that is applied to a patio's floor will create beauty and attractiveness. Add some fancy furniture to this area and it will be complete and ready for you all to enjoy.
Pool Area
Your pool area is a place you and your family will spend most of your time throughout hot summer's days. So you'll want this area to be absolutely perfecto. Decorative concrete is the perfect solution for all your flooring needs around the pool. It is available in many lighter shaded colors. Light colors are important around pool areas because they will not heat up due to excessive sun light and UV rays, therefore they will not burn your feet upon entering or exiting the pool. Decorative concrete also meets certain laws which are required when using a flooring material around your pool.
Garden Area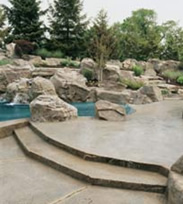 Your garden area is the most peaceful area is the most peaceful area around your home. All the pretty flowers, trickling sounds of water and enjoyable wildlife are enough to make you want to stay out there forever.
Decorative concrete can be used as flooring throughout your garden area. It can also be used for curbing the gardens. It will only add beauty and enhance and compliment this exquisite area.
Decorative concrete can keep away any unwanted weeds and mosses that may grow throughout your garden. You see unlike pavers decorative concrete has not joints or cracks, it is a solid mass.