Commercial curbing is seen just about on every road there is. If you have not yet noticed it next time you're driving along a road look out to the gutter and you'll see a concrete type of curbing. Commercial curbing is used to separate the roads from the grass areas. Curbing also helps storm water travel down in gutters flowing in the right direction. Commercial curbing beautifies the streets as well as protecting them. Curbing offers a neat and tidy outlook. Curbing is widely used all over the world today.
Can I Use Curbing Around My Home?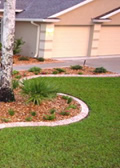 Yes indeed! Curbing can be used around your front and back landscape. You see curbing can help prevent dirt, soil, bark, rocks or any other material you have used in your landscape gardens from traveling onto several places like; your driveway, walkway, patio or sidewalk.
Concrete Curbing Around Your Landscape

Concrete is the best material that should be used for all your curbing needs. It's durable, hardwearing and long lasting. Concrete curbing may be used to curb the edges of your landscape. It acts like a barrier between areas that pass before it like driveways and walkways and the landscape.
Having a barrier between your driveway and landscaped garden is important because you do not want debris traveling onto it. This can be dangerous! Leaves and dirt can be slippery so by using concrete curbing you are keeping the dirt and leaves where they should be.
One of the beauties and benefits of using concrete as your preferred curbing material is that you are able to choose just about any color you like. Whether it is red, pink, blue, and green, brown, white or black be sure that you will find the right color that will suit your existing color scheme.
How Is Curbing Made?
Concrete curbing is produced in molds. Once you have decided on the right place to put the curbing you should measure the area in length and width. This will give you the right idea on how much curbing you will need, as well as how many materials you will also need.
Once you have measured the areas where you are using curbing you can either choose to make your own concrete curbing by producing plastic molds with the shape you would like or you can visit your local retailer who will offer you curbing services.
If you do decide to design your own concrete curbing you can purchase the concrete mixture containing your desired color.
Concrete Curbing
Concrete curbing will not only prevent dirt, debris, rocks and weeds from entering your driveway or walkway curbing will add some much needed beauty to the finishing affects of your wonderfully landscaped gardens.
Concrete curbing is a decorative necessity that all landscaping should feature. If you are truly not happy with the overall affect of your landscape because you think and feel there is something missing add some concrete curbing around your gardens you'll be fantastically amazed by the gorgeous affects and settings that concrete curbing provides.