Antique pavers have been used over many centuries on historical and sacred buildings. The ancient Romans and Greeks commonly used antique styled pavers to construct their palaces, castles and museums. Today antique pavers are still widely being used for their rustic and old world appearance. They offer a look that is quite special and no other type of pavers can match these special outlook antique pavers have on offer.
Where to Use Antique Pavers around the Home!
Antique pavers can be used anywhere around your home. It all depends on where you would like to achieve the spectacular affects of antique pavers. Driveways, walkways, patios and even pool areas are all places where antique pavers can be applied to achieve the rustic appeal.
You can further achieve the rustic style by adding some furniture onto these areas with the same sort of appeal. Cast and wrought iron are perfect examples for achieving the rustic feel with furniture.
Antique pavers are highly versatile so use them anywhere around your home and you will be quite happy with their outlook.
How Are They Made?
There is one specific technique that is being used today to make antique pavers. A 60 year old machine which makes normal brick pavers is used in the process of making antique pavers. Antique pavers can either be a mixture of clay and water or cement, sand and water it all depends on the manufacture. This mixture is put through this 60 year old machine and heated at a very high temperature. The heating is needed for the materials to bind together as a solid mass.
The pavers are heated to high temperatures to achieve this rustic outlook. Imitation antique pavers are what they are known by. Clay is the most suited material for imitation pavers because of its earthy tones.
Unique Antique Pavers
Unique antique pavers are genuine. Whether they are stone, clay or natural stone they are at least anywhere from 100 to 1000 years old. These types of antique pavers are highly durable and hard wearing and due to their age this is where they get their name from.
Unique antique pavers are commonly seen throughout historical buildings. These antique pavers can be purchased from specific manufactures. But they can get very costly if you have a large area to pave.
Antique Pavers Will Add a Touch of Class to Your Home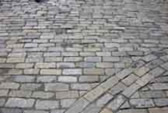 Not only are antique pavers known for their rustic appearance their known for their elegant and classy overall look. They have an individuality of their own unlike any other pavers. Choose to use them anywhere around your home and you'll be truly satisfied with their wonderful affects.
Colors, Shapes and Patterns of Antique Pavers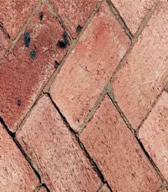 Colors- Their colors are smooth and elegant. They will match any color scheme that already exists around your home. Reds, rust, pale yellow, sandy, orange and plum are just some of the few colors that antique pavers are available in.
Shapes- Because antique pavers can be made you can purchase them in any shape you like. Be different and daring and go for an out there shape. Some common shapes that antique pavers are used are; squared, rectangular, octagon, triangular and pentagon.
Patterns- Choose from the classy range of paver patterns or simply make your own. Some of the more antique styled patterns that are perfect for antique pavers are; traditional herringbone at 90 and 45 degree angles and modern parquet.