Imagine your beautifully landscaped gardens look at its best but in the back of your mind you feel like something is still yet missing. You think and think and can not figure out what it is then suddenly it hits you it's a WATER GARDEN.
What Is A Water Garden?
A water garden is very similar to a pond. Fish and frogs can swim around and enjoy the beautiful fresh water as they turn this place into their homes. You can grow aquatic plants in your water garden and it can be as big or small as you like.
A water garden is easily made be anyone. It will be visually pleasing as you see the beauties of your water garden. One of the key benefits of building your own water garden is that you are able to choose any particular design or style. You can even make it up as you go along.
Here is a step by step guide to help you with the construction of your water garden!
1. Planning and Designing Your Water Garden
The first step to building your own water garden is planning. You need to consider many things such as;
Where will it go? What type of shape and how deep it needs to be?
What type of plant and aquatic life will I grow?
What type of fish you will choose?
One of the main concerns people come across when build their own water garden is they plan it to be small. Once it's constructed it ends up even smaller. This will limit you on your fish and plant life. So always prepare for it to be larger that you really want.
2. Mark out the Site and Start Excavating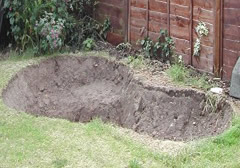 Once you have carefully considered the right position, shape, size and depth of the pond you can then start marking out the area where you will need to excavate. You also need to be careful when digging; if you have chosen to install a waterfall as well you will need to dig on a slope where the waterfall will take its place. This is to allow for the water to run downwards, as waterfalls do.
3. Placing Pond Simmers and Filters
If you are using pond filters and skimmers, make sure you also dig room for them. Skimmers should be placed under the ground. You then will need to dig a trench that will line up so that both the filter and skimmer can be rigged up together.
4. Place the Pond Underlayment
Once the excavation has been completed line the pond floor with a material which is called pond underlayment. Pond underlayment will protect the water by preventing any dirt or grime travelling beneath the pond. Spread it out evenly over the ponds floor it does not matter if there is too much. Creases and folds may occur but this is ok, once the water is added it will remove this.
5. Its Now Time For Coping and Rockery Too Be Added
Place any other material that is going to be used as coping in its place. Rocks and stone that you may be adding to the perimeter of the area should now be in place also.
6. Dechlroninate the Water
You can now start to add water to the pond. Once it is full to capacity add in some dechlronater to the water to ensure that all chlorine is removed.
7. Add In Plants and Fish Carefully
You can the start to add in any aquatic plants as well as package bacteria that is suited for water gardens outdoors. Fish can also be added in but do this slowly it will take time for the fish to establish their new home and if this happens suddenly they can get overwhelmed and die.
Some helpful tips to guide you to achieving the perfect water garden;
Choose aquatic plants carefully some like the sun and some don't.
Position the water garden in a spot where you and all the family can enjoys its wonders on a daily basis.
Visit a local retailer to find out which pumps and filters are best for what you want.
Research which fish will be best and last longer in a fresh water pond.
Take extensive care when young children are around the pond. If the depth is too deep they may drown.
Add a fountain to one end of the water garden you'll be totally satisfied.
Now that you know what's been missing from your landscape gardens add a touch of class by building your own water garden. You will enjoy the beauty of natures affects.