Do you constantly look at your landscape and wonder what is missing, or wonder what you can add to it, or even revamp it with that something special? Well have we got the perfect revamping object for you! Why not revamp your landscape with a stunning water fountain!
Water fountains can help add beauty to your landscape area. There are many flashy and stunning fountains you can choose from. Choose one that will blend in with your existing landscape theme or simply choose one because you love it.
The Origin of the Water Fountain
Water fountains originate from Ancient Greece. They were made as odes to the goddess of lave being Aphrodite. They were made simple and stunning. They also created a surreal setting of relaxation and harmony.
The Uses of a Water Fountain in Your landscape
Water fountains can be used in your landscape as a focal point simply by placing one in the centre of your landscaping. You can also choose to add some aquatic creatures like fish or plants to your water fountain.
Water fountains offer a sound of peace. The trickling sounds of splashing water pelting down the fountain is a soothing and calming sound that we have you, your family and guest feeling relaxed and calm.
Where to Place Your New water Fountain
So you've recently purchased a water fountain to revamp your landscape area but you are unsure as to where to place it. Well there are several considerations you should think about carefully before you decide on the right spot for your fountain.
Placing a water fountain close to your entertaining area like your patio or courtyard will benefit you because you will be able to hear the magical sounds of tricking water.
Placing your new water fountain in the front yard can act as a focal point. Your guest will love entering your home passing by your stunning water fountain. They will admire the beauties of it and you'll have them wanting to go out and buy their own.
By placing water fountain in amongst your landscaped gardens is a perfect idea. The clashing effects of the twinkling water as well as the beauty of the trees and flowers are a perfect combination for class and calmness.
Types of Water Fountains
If you're unsure about which type of fountain you are after, in this next paragraph or so we will discuss the many types of fountains.
The Rising jet Fountain is an ideal fountain for those who love the trickling sounds of water. The rising jet fountain features 3 or 4 different levels. The water is pumped upwards and sprayed out over the top which makes the water travel downwards. As the water travels down the 3 levels the sounds and features of a rising jet fountain become so relaxing and calming you'll want to spend all day by your new rising jet fountain.
Statue fountains are one of the most commonly used types. The statues can be anything you like. Whether it be an animal, a human figurine, a fairy or angelic or even a standard rock you'll be certain you'll find the right statue for your landscape area. Statue fountains tend to have a large bowl at the bottom and the water usually flows downwards from the top of the statue. Statues are a great choice to incorporate with the designs of your landscape gardens.
Solar powered water fountains are being increasingly popular nowadays. Their popularity has come from them being solar powered. All their power is generated by the sun and daylight which helps make them work right throughout the night. There are many designs that are available for you to add into your existing general theme.
Materials they Can be Made Out of!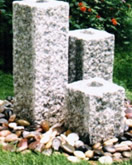 Water fountains can be made or purchased in any type of material. If you'd like to match you flooring on your patio or pool area then choose the same material. Concrete, stone, metal, terracotta and granite are all popular materials.
So hopefully this information has helped you make up your mind and add that missing feature to your landscape you will be happily pleased by the magical affects of a water fountain!