Imagine that you have a either a beautiful home or a stunning commercial space with a
sidewalk that winds around the front entrance to the structure. All around this sidewalk are beautiful roses, flowers and hedges – it seems almost as if it is a trail winding into an enchanted garden. Until you look down that is, then it is just a mess of cracked concrete that is ugly, grey and completely without character. This is where the help and aesthetic beauty of pavers would come in handy.
Typically in our previous blogs we have discussed various uses and applications of pavers which include: paver pool patios, paver driveways, backyard paver patios, paver landscape curbing and paver landscape seating. What we really haven't put a spotlight on is how pavers can add texture, color and beauty to what used to be old beaten walkways.
Typically, the types of pavers that are used for paver walkways are concrete pavers, natural stone pavers and brick pavers. When using concrete pavers, in contrast to natural
stone pavers and brick pavers, the options for colors, sizes and shapes are nearly endless because they are manufactured to meet a wide array of design taste and styles. While some designers prefer the options that are available with concrete pavers, many still prefer the texture and aesthetic look of natural stone pavers. While natural stone pavers do not come in as many colors, shapes and sizes, the completely natural and "earthly" look is something that other pavers can not compare with.
While the instillation of pavers does tend to run higher than simply pouring concrete, pavers will not only give an aesthetic beauty that concrete can not, but pavers will last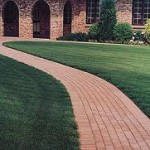 much longer than concrete – thus making it a wise investment. While some pavers cost more than others, if you are concerned that pavers may be out of your financial budget, then don't let that stop you! Your contractor should be able to work with you to help you find a paver that will not only meet your physical needs, but your budget as well as your requirements for beauty.
A huge benefit of walkway pavers that many people neglect to factor in is that pavers by nature are naturally slip resistant. That means no more shuffling down walkways to avoid awful falls! In addition, if for some reason your paver becomes cracked or stained, it is very easy to simply pop the paver out and replace it with a brand new one! Unlike concrete, you don't have to live with an awful demarcation forever! The benefits of pavers go on and on, obviously we are a huge fan of them and because of how durable and versatile they are – pavers are quickly becoming the craze!