Pavers for your Walkway…
In our last few blogs, we have explored not only the various types of pavers but also the wide variety of uses. As you have probably come to conclude; pavers are incredibly versatile and can be used in a wide variety of locations and have many benefits. In this blog, we are going to put the spotlight on walkway pavers, how they can be used as well as what benefits they bring.
The use of pavers for a walkway…
As we have already addressed, pavers can be used in a wide variety of locations and they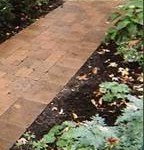 fit well for both residential and commercial purposes. Pavers are commonly used for patios, courtyards, decks surrounding a pool, garden pathways, walkways and much more. Because pavers now come in an array of colors, textures and styles, they are now increasing in their use because of all the design styles and options that are available. Because of all the paver colors that are available, home owners as well as commercial property owners are able to now match new pavers with existing materials such as roofing and stucco.
Pavers can be installed virtually anywhere, many times people have a footpaths that have been carved out over time as people have stomped their way to the BBQ or gazebo. Instead of having a pathway carved out of dead grass, why not create a paver walkway?
Pavers are the perfect solution to create a pathway that depending on the type of material used, can be more organic in appearance, or make more of a statement. Pavers are an
elegant way to add texture and create interest to any area. Pavers are a great solution for any space that receives a high amount of foot traffic for many reasons. First and foremost, they are by nature slip resistant – pavers are a much safer solution than slippery concrete or a muddy pathway.  For commercial properties specifically, this feature alone is a huge advantage.  Now, this might seem pretty basic, but walkways serve a few basic functions. They direct the flow of traffic, essentially, if you don't want people to wander through your flower beds, then create a walkway that directs them to an area where the flowers can be admired – but not trampled. In addition to providing direction for people, walkways insure individual safety for people.
If you want to highlight the beauty of your walkway or if you just want to provide an extra element of safety, then walkway lighting can be used. Landscape night lighting is a beautiful way to highlight the features of your outdoor space and accentuate it – even at night. As you can see, the possibilities with paver walkways are endless! They can be curved, linear, organic or more noticeable in appearance. That is the beauty of pavers, pavers unleash a wide variety of options and selections!