Brick Pavers Designs
Brick pavers can transform all types of exterior ground surfaces to have decorative appeal that complements the exterior presentation. They also provide a safe ground surface for foot and vehicle traffic. They are a popular paving product for residential, community, commercial and industrial applications. They are often featured on; walkways, pathways, sidewalks, driveways, pool areas and much more.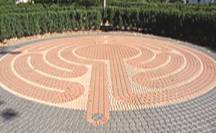 Brick Pavers are available in a wide variety of shapes, over 50 colors to choose from, various thicknesses and as for the patterns, there are many brick paver designs to choose from to suit individual application requirements. When it comes to choosing a design, there are various things you should consider; as not every property landscape is the same therefore no specific design would be suitable for a specific type of application. The size of the area where you have opted to feature brick pavers and the shape of the area are two important aspects that should be carefully considered before choosing the paver design and pattern. Another important aspect before choosing the design is what the application is used for as the design aspects may affect the stability of the structural pavement.
Brick Paver Designs
The great thing about brick pavers is there are basic paving designs to choose from to compliment the outdoor theme, the characteristics and the decor. There are no limits to designs as you can be as creative as you want and as artistic as you want. Think of it as a piece of artwork. Although there are still some landscape designers and home owners who prefer basic designs, the popularity in incorporating several brick paving patterns and colors has become a favorable option.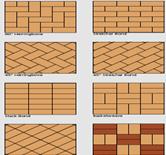 The following are some of the more common brick paver designs that can be achieved with rectangular pavers, square pavers and octagon paver shapes.
Running bond
Stack bond
Stretcher
Basket weave
Herringbone
Spin wheel
Running Bond Brick Paver Design
The running bond pattern is used for various applications including; pathways, walkways and sidewalks. Rectangular or square shaped pavers are used for this type of design where the pattern provides an offset appearance. The first row of pavers is placed side by side and the second row is placed in an offset position. These two offsetting patterns are used for the entire design.
Basket Weave Brick Paver Design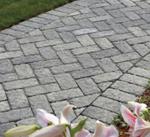 This pattern is still a popular paving design for residential and community applications. The basket weave brick paver design is used for driveways, walkways and pathways. The pattern of basket weave is achieved by placing two pavers sideways, which forms a square. The next two pavers are placed where the center line between the two are faced upwards. The pattern is repeated in the same manner as the first pattern placement and the second laying pattern placement. This laying pattern is used for the entire pavement design.
Herringbone Brick Paver Design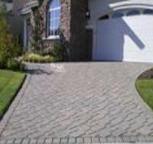 The herringbone design is a favorable design option for large pavement areas such as driveways. The benefit of this design for driveways is it creates a more stable surface as this pattern has been said to have better load bearing capacity than other paving designs. There are two herringbone patterns that are laid in a 45 degree angle and 90 degree angle. The 45 degree angle is good design for large areas as it makes the pavement look smaller, where as the 90 degree angle is used for small areas as it makes the paved area to look bigger.