Landscape & Paving Software - Marketing Resources
Landscape & Paving Software
PaverSearch.com, in affiliation with our premier partners, proudly present a host of Landscape and Paving Software for landscaping professionals and business.
From Landscape Estimating, Calculators and Paving Software to Business Accounting, Management, Sales and Customer Relation Management, we've got the tools you need.
Interlocking Paver Software (Depiction Software)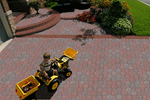 For interlocking paver contractors, Depiction Software - the award-winning contractor-software specialists - has created a suite of products and services to take your business to the next level. Designed to help you seriously boost your sales and productivity, this software and web service will give you an increased income, and more spare time to enjoy yourself. It's time to re-think how you do business.
Paver Estimating Made Easy (Depiction Software)
We understand how crucial it is to estimate a job correctly and we know it's not easy--prices fluctuate, and it's possible to under or over-estimate your materials, gouging your bottom line in the process. The Paver Estimator 2.0 eliminates the worry of miscalculating a job, while letting you provide your customer with a more accurate quote a lot faster.
Landscape Business Software
Accounting Software (QuickBooks PRO)
Running your business efficiently, confidently, and profitably depends on keeping your finances in order. QuickBooks Financial Software helps simplify everyday office tasks and lets you focus on doing what you're best at - serving customers.
More Info
Customer Relation Management (Goldmine)
Maximize your time, relationships and opportunities with the award-winning GoldMine suite of solutions. Out of the box, GoldMine helps you increase productivity, streamline sales and marketing and win and retain customers.
More Info
Business Management (Garden Graphics)
Our tools help you manage every aspect of your business, enabling you to know your costs and make better decisions Our tools are flexible and help you fine tune your business. Features Integration with other software e.g. QuickBooks
More Info
More Landscape Software
Auto CAD Software (Auto Desk)
With Autodesk® AutoCAD® Revit® Series 8, you can preserve your current investment in technology and training and gain the competitive advantage of building information modeling - all at your own pace.
More Info
Landscape Sketching (SmartDraw)
The SmartDraw Floor Plan Edition is the easy design software that helps you create perfect landscape, garden, deck, and patio plans—even if you have no drawing skill at all, you'll find it quick and easy.
More Info
For pricing and information on our suite of professional Landscape and Paving Software, call us at:
(800) 737-0724
or click on the link to
Request Info