Concrete Paver Stones
The Durability of Paver Stones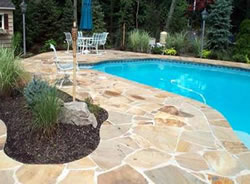 Paver stones have been used as a flooring material for centuries. If you look at some parts of Europe you will see paver stone pavements that are still standing today.
Therein is the reason that they are still the most popular outdoor flooring material on the market today… durability!
Whenever we decide to spend money on our residential or commercial properties and we are choosing the material, the value for the money is always a major concern. Paver stones have continued to be a popular material because they do the job right, efficiently and will stand the test of time. So whether you are a homeowner, contractor or an architect, they are the leading outdoor flooring material of choice.
Increased Demand and Availability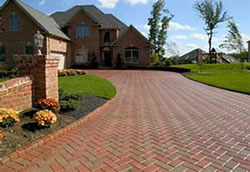 With such an increase in demand for these stones, the industry has responded and there is now an abundance of them available to consumers.
Pavers are produced from a wide range of materials including natural and man made. Some of the more popular ones include concrete, brick, natural stone, precast concrete, grass and rubber. There is a type of paver that is suitable for every outdoor application.
With such a large range to choose from, this enables homeowners and contractors to create some really elegant and unique looking flooring applications whether it is a patio, driveway, walkway, courtyard, pool surrounds, sidewalk or garden pathway. Along with a wide range of paver materials also comes a variety of patterns, colors, sizes and shapes. Paver stones can be custom made by particular manufacturers to suit customers specific design requirements. The design possibilities are truly endless!
Advantages of Using Concrete Paver Stones
These have become the industry's most widely used material. There are so many reasons for the popularity of concrete stone pavers and here are a few of their benefits:
They are a manufactured product which means they are widely available and in great numbers.
Because they are manufactured, they can be custom made for clients according to color, size and shape.
They are one the more affordable paver stones on the market.
They are less expensive than natural stone pavers; however they are still able to give your landscapes the same aesthetic appeal. They are produced to imitate the look of natural stones.
Interlocking concrete paver stones are very easy to install. They are produced to 'interlock' into each other easily. The joints then only need to be filled with sand.
They are also easier to install because they are lighter than natural stone pavers.
A paved outdoor surface is also very easy to repair. If you have any damaged, cracked or stained concrete pavers, all you need to do is have the damaged ones removed and then replace with new ones.
They are easy to maintain. It is recommended that you seal your pavement every 1 to 2 years just to preserve the look of them and hence the look of your property as a whole.
Concrete paver stones are also very durable and are used for driveways with high traffic and load bearing vehicles.
They really do provide you with great value for your money. They provide you with all the important things like visual appeal, strength, stability, afford ability and longevity!