PaverSearch.com Weekly Product Spotlight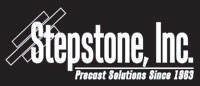 Stepstone Inc.
is pleased to expand the Design Community's permeable paving options by offering our new Pervious Pedestrian Pavers. Stepstone's Form Finished Pervious Pedestrian Paver deliver a tight surface matrix and 12 standard colors. Our honed surface reveals beautiful aggregates while maintaining slip resistance.

Stepstone, Inc. has been providing high quality precast concrete products to the construction industry since 1938. Stepstone is a family owned company with the same "old fashioned" belief in quality and integrity.
Dekstone is a precast concrete deck paver that is perfectly suitable for paving decks, patios, pool decks and roofs and other residential or commercial applications.
Dekstone is durable, non-combustible and available in a variety of elegant colors and can be easily installed by do-it-yourselfers and homeowners within your budget.
Call
1-800-572-9029
or email us at
sales@stepstoneinc.com
for a printed catalog or for more information about Dekstone or any other Stepstone product.
Visit our Dekstone website at
www.dekstone.com
Visit our main website at
www.stepstoneinc.com
See more information on
precast pavers
.