Driveway Pavers Installation
Driveway Grading Installation Issues
The main purpose of grading or sloping your driveway is to direct rainwater away from the house or building structure toward the yard area or into a drainage pit. Have a look at the site to see if it is too flat. If so, it will need to be graded to prevent rainwater pounding or pooling on the landscaped lawn area.
Dig out some soil and move it to another area of the yard or garden; place a simple catch basin and drain at the lowest spot in the driveway. This drain connects to an underground pipe that will empty into the street when it rains.
Aesthetics & Design of Driveway Installation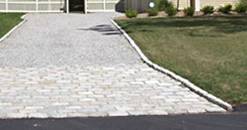 Due to the large amount of yard space that is taken up by the driveway area, it is of high priority to install not only a functional driveway, but also one with a well-conceived decorative element that compliments the property's aesthetic theme.
Therefore, when planning a new or upgraded driveway, also consider how walkways, porches and patios in these materials can unify the property and give your home even more curb appeal. This is also a chance to create outdoor spaces that will help you and your guests enjoy the yard and garden.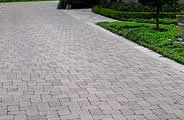 The design opportunities are limitless when it comes to your driveway. You can start off by choosing amongst so many different materials, such as natural stone pavers, rubber pavers, brick, poured concrete and precast concrete pavers, to name a few. There are many varieties of natural stone pavers, such as; limestone, bluestone, sandstone, granite, slate and flagstone.
Deciding the Right Pavers Designs for the Installation
When considering a concrete driveway you can choose from stenciled, stamped and color stained concrete. Gone are the days of the plain gray concrete driveways.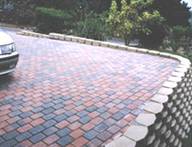 Once you have chosen your material, you can then start to decide on the color, shape, design, patterns and sizes. Again the possibilities are endless. You can choose any color you could dream of to match the rest of your property. Whether you're using stone pavers or concrete, you can achieve so many patterns, such as: herringbone, running bond, basket weave and cobble design. There are many decisions to be made but what makes it so much easier is the abundance of choices available to help you create an appealing driveway.
When deciding on the width of the driveway, be sure to allow a minimum of twelve feet wide at the vehicle parking areas so that it will be a sufficient space to move around the vehicles exterior and avoid stepping on any lawn nearby. As for the length, it should be at least 18 feet in length per vehicle.