Interlocking Driveway Pavers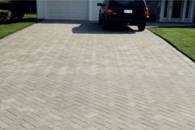 Driveways are more commonly featured for their functionality. With so many landscaping products available that can be used for driveways, you really need to consider which product provides stability, aesthetic appeal as well as safety. Interlocking pavers are a great product that provides ground surface stability, decorative appeal as well as safety.
These types of paving products are a popular system for applications that are used in residential, commercial, community and industrial driveways. Interlocking pavers are specially manufactured and the design technology of the side wall edging feature ridges on the outer part of them. The side ridge edging design aspect actually allows each paver to interlock with another during the installation process which prevents movement.
Driveways Must Be Stable To Withstand Heavy Traffic
One of the most crucial aspects to paving driveways is the stability and durability aspects. There are so many types of pavers available on the market and this is where careful consideration must be taken as they must be able to withstand heavy vehicular and foot traffic to prevent from moving and causing gaps to appear. An unstable ground surface can cause the driveway to be unsafe as well as being unattractive.
By choosing interlocking pavers for driveways, these systems will create a stable and safe driveway. If you are unsure which paving system would be suitable for your specific driveway requirements, seek professional advice and they will recommend the most suitable type to suit your individual requirements.
Many Interlocking Driveway Pavers To Choose From
There are many interlocking driveway pavers to choose from, no matter what size, what shape, how large or small the driveway area is. They are available in a wide range of colors, sizes, shapes and textures which can be achieved with an array of patterns. This means that the design opportunities are endless.
One of the crucial aspects to featuring interlocking pavers in any driveway application is that they must be sealed right after installation as well as applying a sealing product every two years. What a sealer provides is a top coat of filming to the surface which provides protection from various natural and non-natural elements. The following are some wonderful attributes to interlocking driveway pavers that are sealed:
They can bring the entire landscaping presentation to tie in beautifully with the driveway presentation and make it look elegant, stylish and add character to it
They are durable, functional and very versatile
Many geometrical shapes to choose from
Exceptional colors, textures to choose from
They can be custom made in a specific shape and specific color for individual taste
Wonderful paving designs to personally select from
They have excellent durability values
They are heavy duty which can withstand vehicular and foot traffic
They provide stability and safety
They have excellent resistance's to weather conditions
They are non-slip
Because of the interlocking system, they are easy to install by homeowners and contractors
No mortar is necessary during installation