Granite Paver Maintenance
Granite pavers are regarded as the highest quality paving product for their exceptional durability values, long lasting attributes and of course their natural beauty and decorative charm. The typical use of this type of paver can be featured in any external area for residential, community and commercial applications. The natural colors are another quality in the uniqueness they create for pavements, with textures ranging from white, to neutral, earthy tones to dark and rich textures.
Granite Paver Maintenance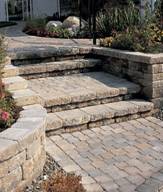 Although granite does have resistances from natural and non natural elements, maintaining granite pavers is recommended for further protection and much longer life expectancy. Did you know that by protecting and maintaining granite pavers with proper care, granite pavements can last more than 400 years, sounds impossible but its fact.
The best and proper way to protect and maintain granite pavers is by applying a suitable sealing product for this type of natural stone. For new paving applications, the majority of landscape contractors will apply a sealing product, after the installation process is complete. What a sealing product does is it creates a film like layer to the surface of granite pavers to shield and further protect the surface from weather conditions, wear and tear and remove stains easily. Another credible benefit to sealing products is they also create a non slip surface for the safety aspects. A sealing product should be applied every two to three years as part of a maintenance program.
DIY Cutting Granite Pavers
For DIY homeowners who have opted to install granite pavers themselves, in some cases the granite pavers may require cutting at some stage during the installation process. Cutting granite pavers in the proper manner should be taken seriously for two reasons; one is the safety issue by using the correct tools and equipment as well as appropriate safety gear. The second aspect is to cut the edge or the shape effectively to suit the necessary edging or design requirements. The more recommended type of equipment for cutting granite pavers is a wet masonry saw with Diamond Head blades. These types of special cutting equipment can be either purchased from a reputable hardware dealer or they can be hired. Always seek advice for further assistance in buying or hiring the correct cutting tools and equipment.
Indoor Uses for Granite Pavers
Mortars are what hold any paving or tile material in place. They act as an adhesive for the pavers to set in place so there is no movement. Granite pavers can also be featured indoors. They are much thinner paver then outdoor pavers that look similar to granite tiles.
Mortar Mixtures
For installing granite pavers indoors, there are many mortar mixtures that can be used. Granite pavers' indoor mortars are available in various mixtures including; cement mortar, Portland cement, adhesives, stucco and a slurry type mixture. When selecting mortar for indoor granite pavers, you need to ensure that you are using the correct mortar that is suitable for natural stone pavers.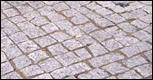 The versatility of granite pavers is they can be used for indoor or outdoor applications. There is a difference in the type of mortar mixture that is suitable for outdoors and indoors. Outdoor pavement applications will be exposed to harsh weather conditions like sun, rain, hail or snow as well as wear and tear which can weaken the mortar if the correct type is not used. When choosing the type of mortar for outdoor granite paver's installation, it is imperative to select a top quality mortar mixture that is suitable for natural stone pavers. By choosing a top quality mortar, they have exceptional durability values to be able to withstand all natural and non natural elements so the mortar does not crack and therefore will not cause pavement stability issues. It's advisable not to use a chemical based mortar mixture for outdoor granite pavers. Seek further professional advice if you are unsure.