Patio Pavers Designs
Summary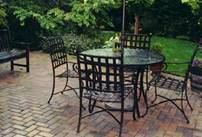 Patios applications are a great way to extend living to the outdoors where you can entertain and have a peaceful place to relax or even just enjoy dining outdoors. The structure and design aspects of patios are important elements to each individual application requirements such as: area space, area shape, whether to have the patio covered with a roof or not and what type of material to use for the floor surface.
There are various types of materials that can be used as the flooring system including: timber, concrete and pavers. Pavers are one of the most common types of materials that patio floors are featured because of their functionality, their decorative appeal as well as their safety values. Pavers offer so much more than other materials because of their durability, their elegance and their safety values. They are available in many colors, shapes, sizes, textures and thickness.
As for the paver patterns and designs aspects, they are limitless to suit each individual decor requirements ranging from basic patio paver designs such as: running bond, basket weave to more unusual and unique irregular designs.
Paver Material Types
Pavers are available in various materials of which some are manmade and some are made from natural stone. The following are some of the more common types of pavers that can be used for patio floors with many design options to choose from for personal taste and decor:
Natural Stone Pavers
Clay Pavers
Brick Pavers
Concrete Pavers
Natural Stone Pavers

Natural stone pavers are regarded as the highest quality of paving material and that's due to their natural durability, natural resistance's as well as their high degree of strength attributes. Natural stone is specially carved from natural stone materials such as; sandstone, flagstone and bluestone. These types of stones are specially cut into paver shapes, different sizes and different thickness. They can be used in just about any application as a functional and decorative pavement system full of natural character and natural elegance.
Natural stone pavers are a popular paving material for patio floors and as for the paving design and patterns, the irregular design is often one of the more favorable designs. The irregular pattern complements the natural appearance. There are some disadvantages to natural stone pavers and that's the cost factor as they are one of the more expensive on the market. The other disadvantage is the colors are limited to natural tones and textures.
Concrete Pavers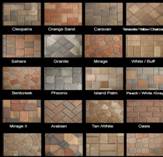 Concrete pavers are another popular paving material that is commonly used for patios. They are specially manufactured with the primary material being cement. There are so many concrete paver colors, shapes, sizes and thickness's to choose from. There are various benefits and advantages to these when compared to natural stone pavers which include: they are more affordable and there are no design limitations as you can choose the most extravagant design to a more simple design.
Choosing Patio Paver Designs
Most landscape designers will recommend the patio paver design that is suitable for your individual space. For those who are doing the paving project themselves, choosing the design can be a difficult task. There are some basic things to consider that will help choose the perfect design. The patio area size and shape are vital aspects before choosing the patio paver design. Here are ideas that may help you decide on which patio design is suitable for you. For large patio areas, choose small pavers as they make the pavement look smaller. For small patios, choose large pavers with light textures as both of these elements will make the patio look larger than it is.