Pool Deck Pavers
Create Pool Decks With Majestic Appeal
Pool deck pavers are the ideal paving product to feature in and around the pool area for new pools or remodeling existing pool decks. They have excellent visual presence, they create a safe ground surface in wet pool areas for foot traffic and as for the exterior decor aspects they can also give a beautiful transformation that complements the overall landscape presentation with class and majestic appeal.
There are many choices when it comes to selecting pool deck pavers as there are various types of paving materials which are either produced from natural stone or they are man made from cement. The main three types of pavers that are often featured in and around pool decks are; natural, clay and concrete pavers.
Each individual type of natural and non natural paver will have different durability values, strength values, resistance values, different prices and long term performance values. This is where you should consult with a paving specialist to see which paver type best suits your requirements.
Many Pool Deck Pavers To Choose From
Once you have decided to feature pavers in or around the pool deck, the next aspect is probably the most exciting and the most challenging aspect in choosing the shape, the color and the paving pattern. Pool deck pavers are available in a wide variety of shapes, extensive colors, and various thicknesses and as for the paving pattern, there are also many wonderful designs to choose from which range from basic paving patterns to more unusual and unique paving designs.
The following are some types of paver shapes to choose from for pool decks:
Square shape
Rectangular shape
Oblong shape
Circular shape
Hexagon shape
Star shape
Triangular shape
Diamond shape
Irregular shapes
The above are basically the standard paver shapes that are readily available from retailers and landscape suppliers. For those who want a paver that is unusual or if the shape does not exist, you can have the shape and color of your choice custom made. Be prepared to pay more for custom made pavers.
Consider Interlocking Pavers For Pool Decks
Interlocking pavers are a wise option to feature in and around pool decks for their decorative attributes but also for their safety values. Interlocking pavers are designed so they interlock with another during the installation process where the sides have an edge lip wedge so each paver interlocks with another securely. These types of pavers must be installed properly which will provide extra ground surface stability as no gaps will appear and no cracks will appear. No mortar is required during the installation process as sand is used to fill paver gaps, therefore allows flexibility.
Should Pool Deck Pavers Be Sealed?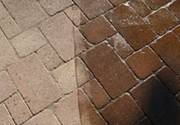 It is vital that pool deck pavers be sealed straight after installation and also must be sealed every 2 years thereafter. The reason for this is that the surfaces of the pavers do need protection from wear and tear, stains, and from changing weather conditions. What a sealer provides is a top coat layer of filming. The layer of filming eliminates seeping into the paver surface which can cause color fading, stains and debris markings penetrating through.
The other important aspect to applying sealers in and around pool decks is for the safety aspect especially concerning wet areas. Again the sealed pavers create a non slip surface as no water can penetrate through the pavers when the pool decks are wet. The other benefit to sealers is they leave a shiny appearance which brings out the textures of the pavers.